Pasta Primavera
Great Way to Get Kids to Eat Veggies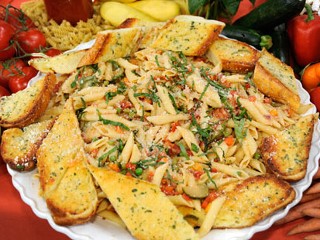 Pasta Primavera
(Donna Svennevik/ABC)
From the kitchen of Emeril Lagasse
|
"This colorful sauce is a simpler, lighter version of the primavera sauce most often encountered. Feel free to substitute other veggies, as desired. As you will see, this makes a very large batch of pasta, enough for six to eight healthy appetites."
-Emeril Lagasse
Ingredients
1 pound rotini or penne pasta
5 tablespoons butter
2 cups chopped red onions
1 cup chopped red bell pepper
2 teaspoons salt, plus more for the pasta water
1 teaspoon freshly ground black pepper
11/2 tablespoons minced garlic
1 pound zucchini or yellow squash (or a mixture of both), halved lengthwise and cut crosswise into 1/2-inch half-moon pieces (about 4 cups)
2 cups frozen mixed peas and carrots
1 cup diced canned tomatoes, with juices
1/2 cup finely grated Parmigiano-Reggiano cheese, plus more for serving
1/2 cup thinly sliced basil (optional)
1/3 cup extra-virgin olive oil
Cooking Directions
Bring a large pot of salted water to a boil. Add the rotini and cook until just tender, about 11 minutes. Drain, reserving 3 /4 cup of the cooking water, and set aside.
While the pasta is cooking, melt the butter in a 14-inch sauté pan over medium-high
heat. Add the onions and bell pepper and cook until soft, 4 minutes. Add the 2 teaspoons salt, black pepper, and garlic, and cook for 1 minute longer. Add the squash and continue to cook, stirring as needed, for 2 minutes. Add the peas and carrots and cook for 2 minutes. Add the tomatoes and continue to cook, stirring, for 2 minutes.
Add the pasta and the reserved cooking water to the sauce and cook until the pasta is heated through and the ingredients are well combined, 1 to 2 minutes. Remove from the heat and fold in the Parmigiano-Reggiano and basil, if desired. Then drizzle with the extra-virgin olive oil. Garnish with more cheese, if desired, and serve hot.
6 to 8 servings
Recipe courtesy Emeril Lagasse, from Emeril 20-40-60, HarperStudio Publishers, New York, 2009, copyright MSLO, Inc.
Prep time: 15 minutes Cook time: 15 minutes Total: 30 minutes